About
In this age of rapid expansion of human settlements, little do we realize that we are not only encroaching on somebody else's territory but also taking them to the brink of extinction. We do have different conservation strategies being practiced by numerous agencies and governments but we as Lensinwoods team choose to use photography as our medium.
We are a group of four individuals from different parts of the nation who have come together with the sole purpose of conservation of nature and wildlife and to create awareness among people mostly students and children regarding the necessity of preserving nature in the best interest of mankind.
Though there are other mediums of conservation but we chose photography as our medium. We try and click pictures of various kinds of birds and animals most of which are in the verge of extinction.
We have been clicking pictures of these rare as well as common species of birds and animals and later upload them on Facebook and whatsapp with proper description of each so that viewers may come to know more about them and join hands in their preservation. Now we have felt the urgency of creating our own website so that our photographs and writings can reach to the larger section of community.
Today when deforestation has taken a toll on these creatures we would want everyone to come together and work towards a common goal of preservation.
The Team
Ajanta Prabahita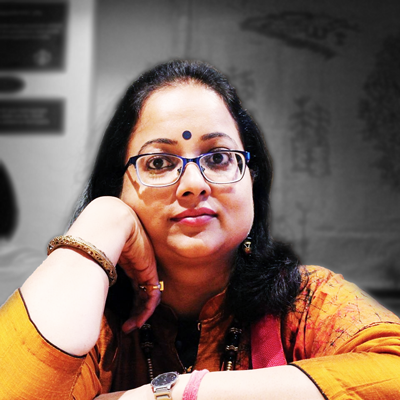 Born and brought up in the lap of upper Assam's Nature, Digboi — close to forest and tall trees.
As I went for higher studies to Visva-Bharati, Santiniketan, my understanding and appreciation of nature were further enhanced. Subsequently I have been a homemaker through certain phases and a passionate writer on my way to becoming an educator by profession.
I inherited a keen interest in photography from initially my grandfather, and got exposed to various kinds of camera and techniques subsequently from my father, who encouraged and facilitated my juvenile efforts. As a young adult it was always painful to see nature destroyed as it has been over the years; as I met my friends Rah, Noel and Gautam, we, with the sole aim of saving the rich variety of nature's creations, joined hands to contribute the best we can.
I give inputs and feedback in concordance with the ideas and evocations generated within me — it's up to the innovative trio of photographers to implement, execute and give shape.
Mosiur Rahaman (Rah)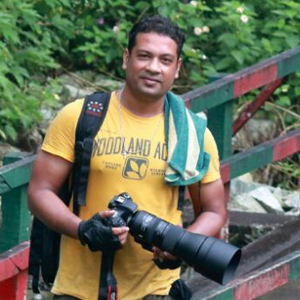 I am an educator by profession, born and brought up in Santiniketan, the lap of nature. I love adventure sports like trekking, bike-riding and rock-climbing; the creations of Nature, especially in North Bengal, attracted me in the process.
While my interest in photography was generated through the first-time use of my father's Yashika and fuzzy camera, the zest for wildlife photography was accentuated through visits to the dense forests and hills of North Bengal.
Having worked with a research team from Techno India, Kolkata in Digha on a project and about to undertake another with the same team in the Sunderbans, I would like to see myself as a passionate conservationist of the beautiful creations of nature, particularly in North Bengal. Through my committed efforts to spread awareness of wildlife and nature, I long to live the much-cherished dream of Nature opening up its arms wide open to shelter all choosing to be ruled by the principle of Universal Brotherhood.
To such a cause I dedicate my flash-gun!
Noel Foning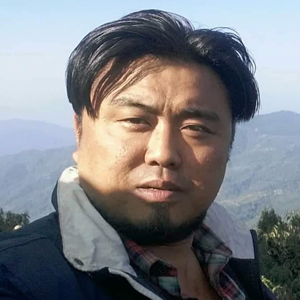 A teacher by profession from Siliguri (North Bengal), born in Kalimpong and studied there itself, pursued higher studies from Visva Bharati (Santiniketan).
Photography always fascinated me since my college days and subsequently took up "Wildlife Photography" as it has its own challenges of capturing images of birds and animals not easily available. My objective is to be able to contribute towards conservation and protection of nature and wildlife through visual images and write ups, it gives me immense pleasure and satisfaction to reach out expressively and create awareness thus amongst people at local, regional as well as national level and so on.
Gautam Roy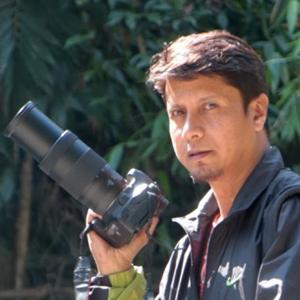 A School Administrator by profession and settled in Siliguri, North Bengal, I hail from Darjeeling, having spent my school and college days there.
I have always been passionate about photography and started with digital or mobile camera as a beginner. Although initially I wasn't inclined towards any genre in particular, I always had a fascination to capture birds, flora, fauna, landscapes and mountainscapes.
Through the medium of photography, I would like to see myself contributing substantially and meaningfully towards Conservation of Nature and Wildlife in the years to come.